Friday, 26 May 2023 18:00
Petersen Price for the Best Master Thesis for Christian Kanaraski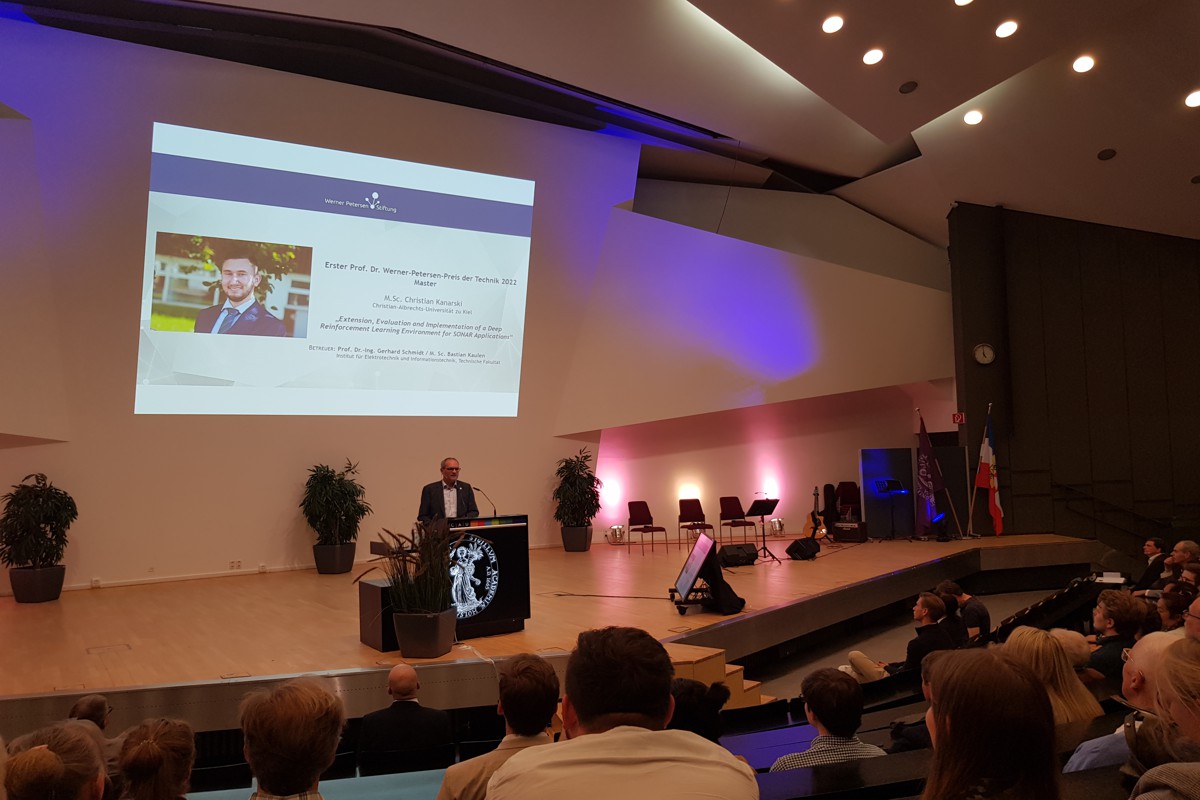 On Friday, May 26th, the Dr. Werner Petersen Prize was awarded in the Audimax to Christian Kanarski. This prize is considered the most highly endowed prize in the field of computer science, technology, and engineering in northern Germany. It honors theses that are particularly innovative and were written at a university in northern Germany, and is intended to promote the next generation of scientists. In the Master's category, Christian Kanarski received 1st prize and thus 3,000 Euros for his thesis entitled "Extension, Evaluation and Implementation of a Deep Reinforcement Learning Environment for SONAR Applications".
Congratulations to Christian from the whole DSS team.
Thursday, 25 May 2023 19:00
Eric Elzenheimer receives Faculty Award from Kiel University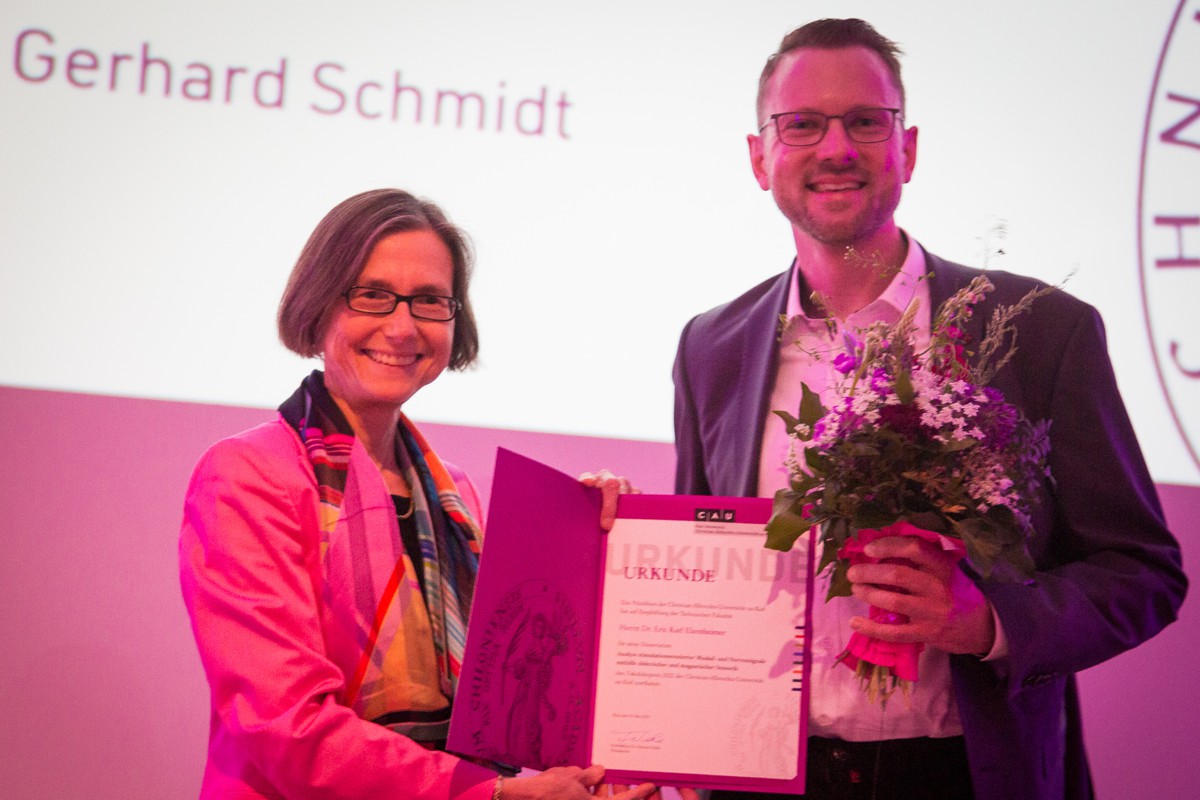 On May 25, 2023, Dr.-Ing. Eric Elzenheimer was awarded the Faculty Award from Kiel University in a festive ceremony at the Kunsthalle in Kiel. The award, presented by University President, Professor Dr. med. Simone Fulda, honors his outstanding interdisciplinary dissertation, 'Analysis of stimulation-evoked Muscle and Nerve Signals using electrical and magnetic Sensors'. This work was conducted within the Collaborative Research Center (CRC) 1261 "'Magnetoelectric Sensors: From Composite Materials to Biomagnetic Diagnostics', specifically the successfully completed subproject B6 of the first funding period 'Multimodal Mapping of Nerve Pathologies using Magnetoelectric Sensors', where also Prof. Dr. med. Helmut Laufs supervised this work.
Eric's dissertation deals with the analysis of stimulation-evoked muscle and nerve signals. The aim is to be able to diagnose systemic diseases of peripheral nerves, so-called polyneuropathies, earlier and more differentially. At least 4 % of the general population of middle and older age suffer from polyneuropathies and the prevalence increases significantly with age. In his work, the electrical signals obtained from standard functional examinations of the nerves were inspected using new innovative digital signal evaluation techniques. It is shown that marginal pathological signal changes can be detected more efficiently and earlier in diseased individuals than with standard quantitative methods. The work also involves the development of a novel signaling model that allows the simulation of physiological as well as pathophysiological processes associated with polyneuropathies. In addition, powerful magnetic field sensors could enrich standard electrical studies with additional signal information. The magnetoelectric (ME) sensors currently being researched at Kiel University are reaching technological limits in the field of polyneuropathy diagnostics. Nevertheless, pilot measurements in his work reveal the potential of these magnetic field sensors for an application in the cardiovascular field.
This award recognizes the valuable research contributions he made. Prof. Dr. med. Wilhelm Schulte-Mattler, Chairman of the National EMG Commission of the German Society for Clinical Neurophysiology, added: "The findings and research results of this interdisciplinary dissertation are major steps towards the further optimization of differential diagnostics in polyneuropathies. Through the original and innovative signal analysis of muscle and nerve signals, Mr. Elzenheimer has made crucial contributions and has also clearly and empirically demonstrated current limitations of magnetic field sensors in the field of neurography. We look forward with anticipation to his future research contributions in this important area of clinical neurophysiology."
Congratulations to Eric from the whole team.
Monday, 27 March 2023 15:39
Eric gave a talk at the PTB in Berlin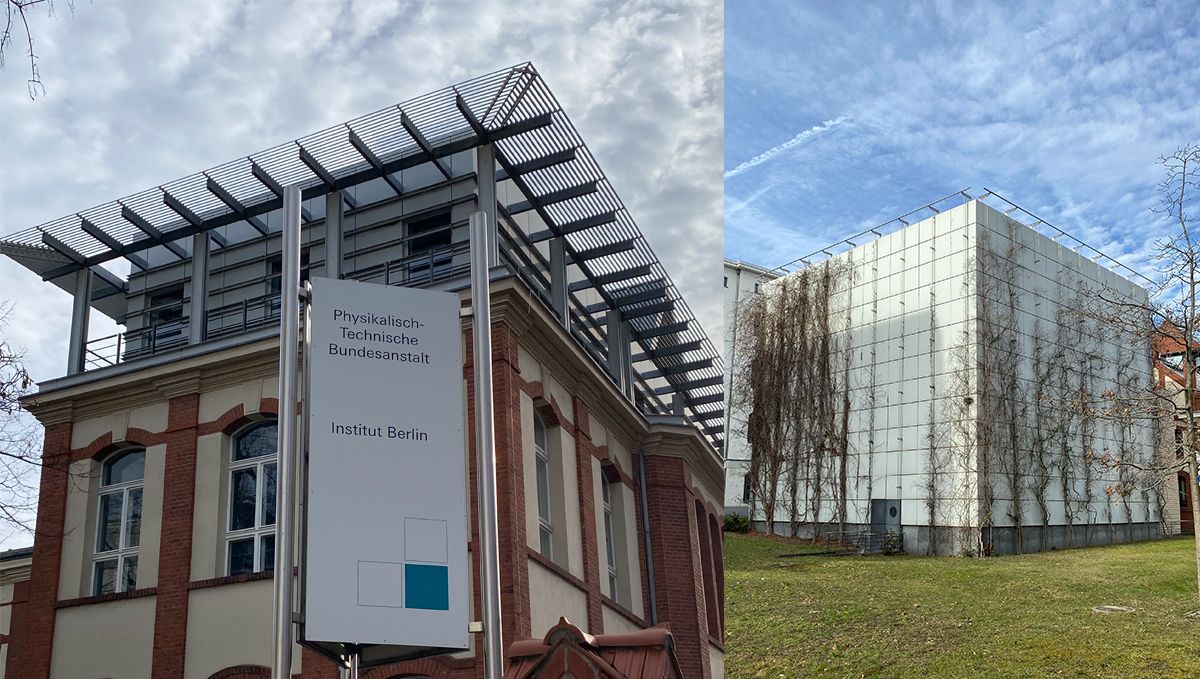 The Physikalisch-Technische Bundesanstalt (PTB) in Berlin invited Eric to give a talk as part of their colloquium for the Department 8.2 Biosignals. In his presentation titled "Magnetoelectric Thin-film Sensors Toward Biomagnetic Sensor Systems", Eric discussed the latest advancements in the field of magnetoelectric (ME) sensors and their prospective application in biomagnetic sensor systems.
Furthermore, Eric offered an in-depth overview of the upcoming collaborative research activities scheduled for 2023 between the Collaborative Research Center 1261 (CRC 1261) and the PTB. This collaboration aims to combine the knowledge and expertise of the involved institutions. All parties involved eagerly anticipate the forthcoming experimental campaigns and are confident that this collaboration will lead to significant advancements in the domain of biomagnetic sensing.
Sunday, 17 July 2022 12:00
Empower-MINT Price for Karolin Krüger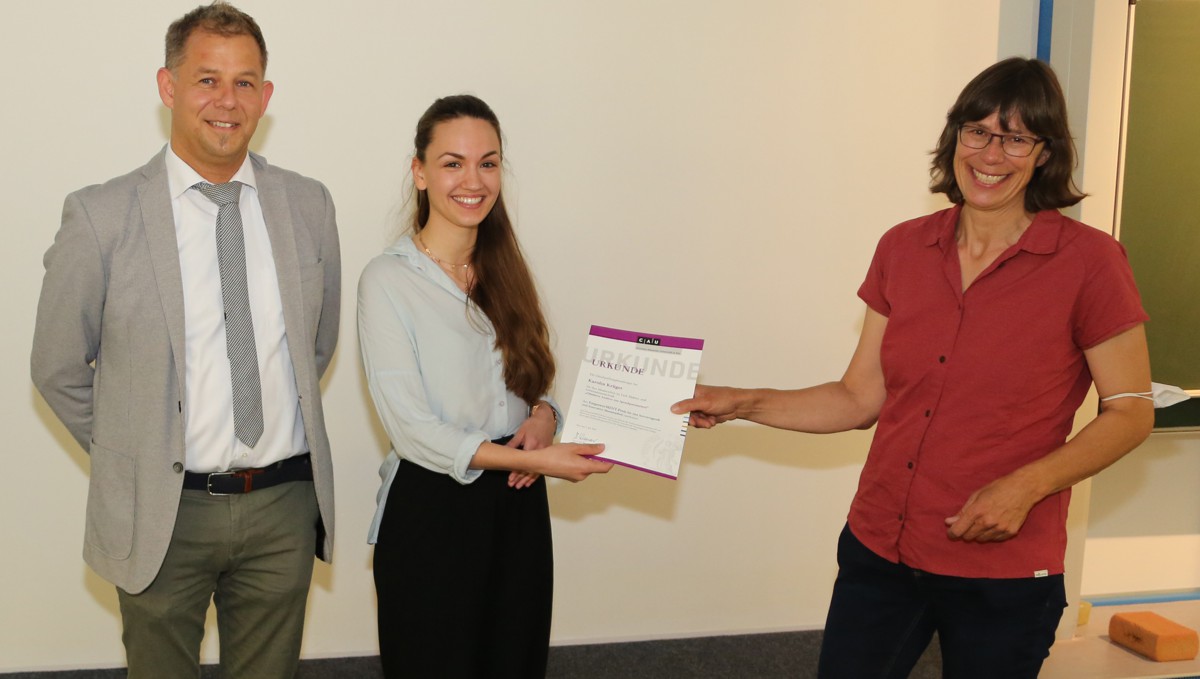 Karolin Krüger was one of the four winners of the EmpowerMINT awards this year. With this price our university aims to honour particular achievements by female students and female graduates in Mathematics, IT, Natural Sciences and Technology, known as the MINT subjects. Congratulations from the whole DSS team.
Karolin obtained the award for her master thesis on automatic evaluation of speech parameters which is very useful if one wants to monitor the impact on different speech therapies (e.g. for Parkinson patients) in a robust, reliable, and objective manner. She will continue with this topic (and extensions of it) as her PhD work in our group.
Wednesday, 01 June 2022 08:00
New "People in Town"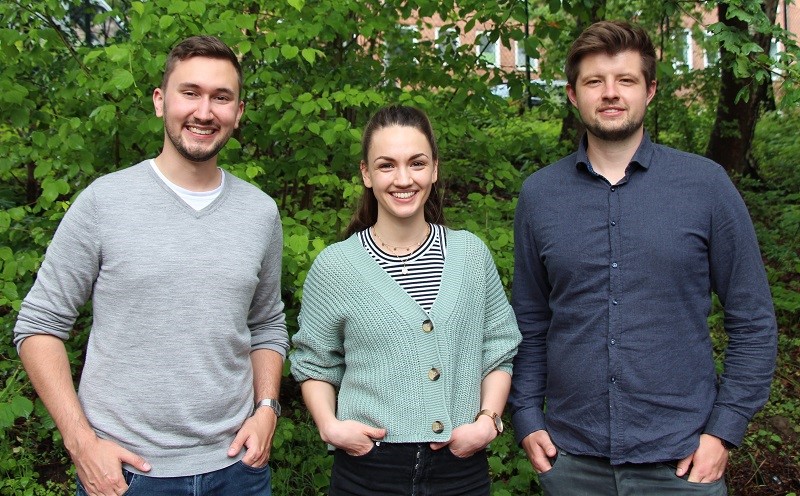 Christian Kanarski, Karolin Krüger and Tobias Schmidt (on the picture from left to right) are joining the DSS team as new PhD students.
Christian starts with the research on hydroacoustic methods for backscattering object detection in the sea column (e.g. gas bubbles) with the use of MIMO-SONAR, orthogonal signals and adaptive Doppler analysis for pattern recognition of backscattering object properties. Deep-learning approaches such as reinforcement learning are also investigated for autonomous control of the cognitive SONAR system.
Karolin continues and expands her research about objective speech analysis from her master's thesis. The developed tool should assist speech therapists in evaluating patients suffering from dysphonia. In the future the analysis should be complemented by a training application to complement therapies by offering the opportunity for a computer-based training at home.
Tobias starts to research about the simulation of different magnetic sources. In the further course the work is about the localization of a magnetic sensor in a predefined magnetic field. The developed application can be used for example to determine the position and orientation of medical devices such as "system control gloves".
Saturday, 05 March 2022 16:00
Podcast on Our Underwater Signal Processing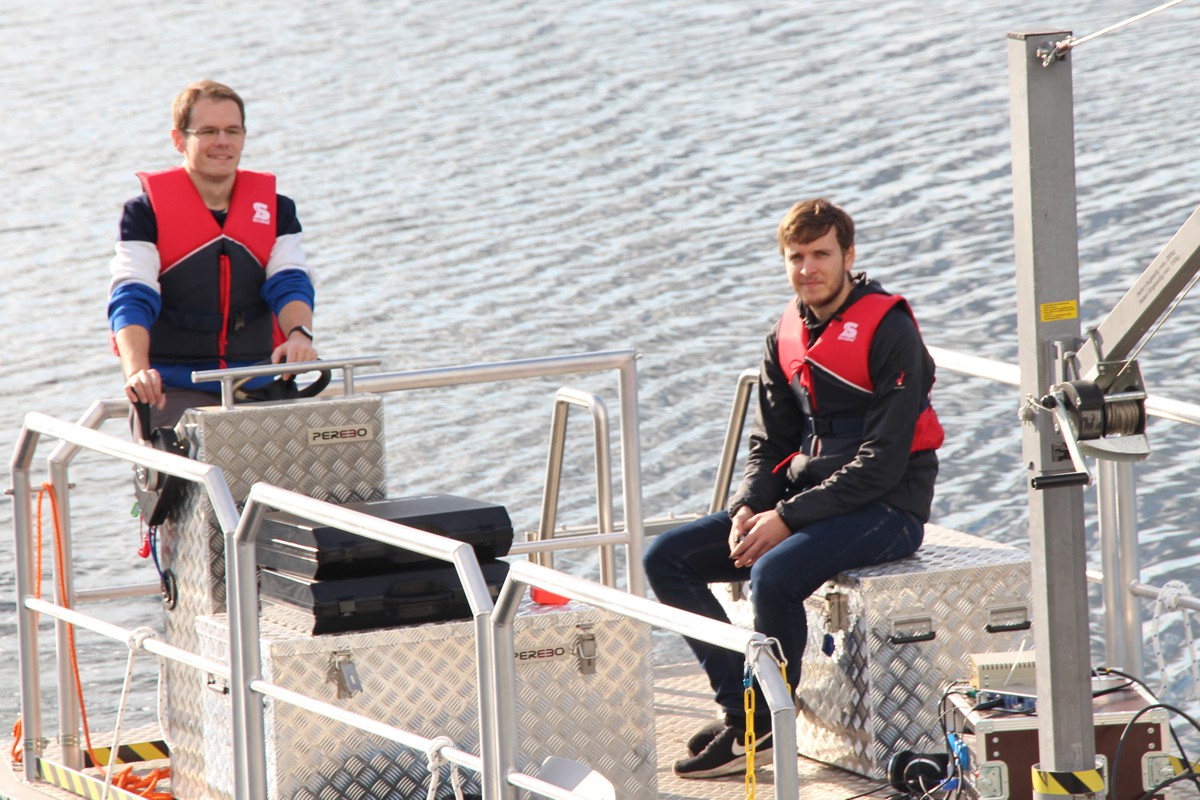 A new podcast on our research on signal processing for underwater applications is online now. Liv Schnoor (previously Presser) interviewed Karoline Gussow, Bastian Kaulen, Gerhard Schmidt, and Owe Wisch on our latest research. It was really fun for us and the time (about on hour) was over really soon.
If you like to listen to the podcast you can do that e.g. on Spotify (available for free). More about the podcast from Liv ("Was steckt dahinter") can be found e.g. on Liv's instagram page.
Friday, 04 February 2022 10:00
Disputation Eric Elzenheimer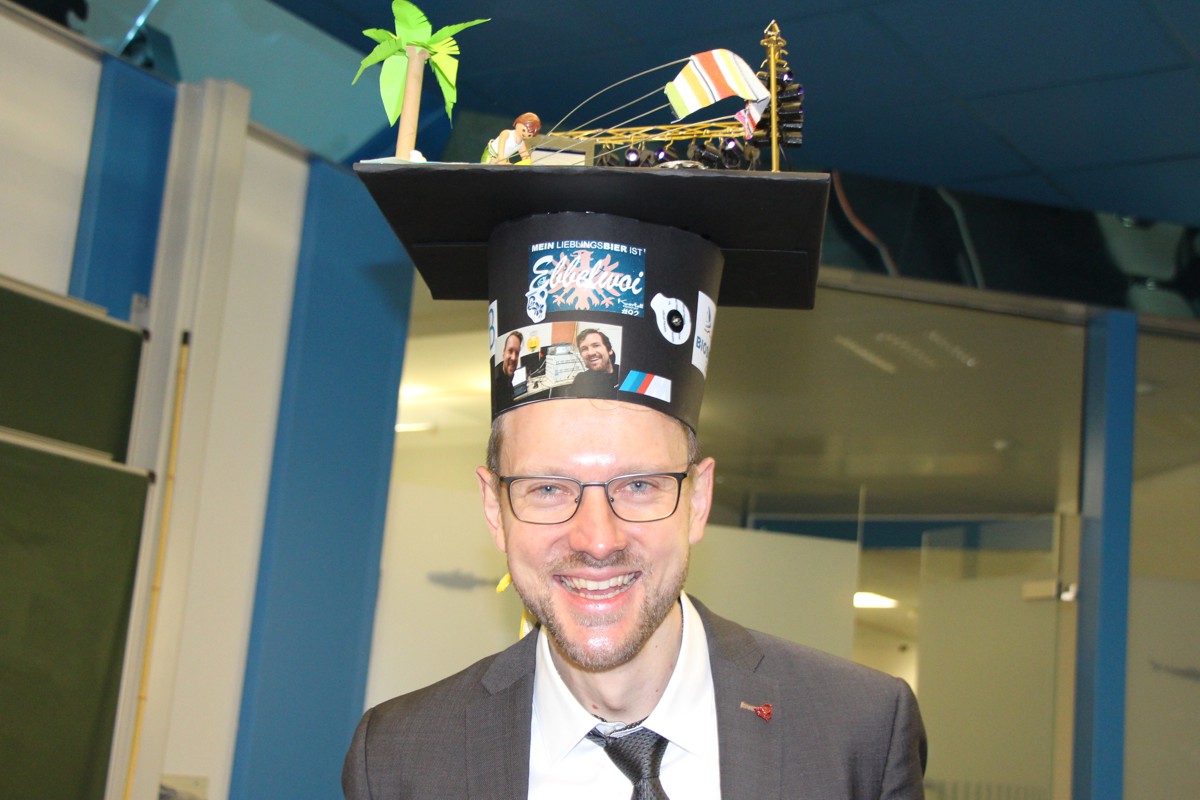 On February 4th, Eric Elzenheimer sucessfully defended his PhD work. Eric worked on magnetic and electric analyses to investigate nerve and muscle signals. A group of five investigators (Gerhard Schmidt, Helmut Laufs, Daniel Baumgarten, Michael Höft, and Eckhard Quandt) asked Eric a lot of questions that were all answered in excellent manner by Eric. Thus, he finished with distinction.
Congratulations from the whole DSS team.
Tuesday, 12 October 2021 19:36
New DSS Team Member (Bambini Class)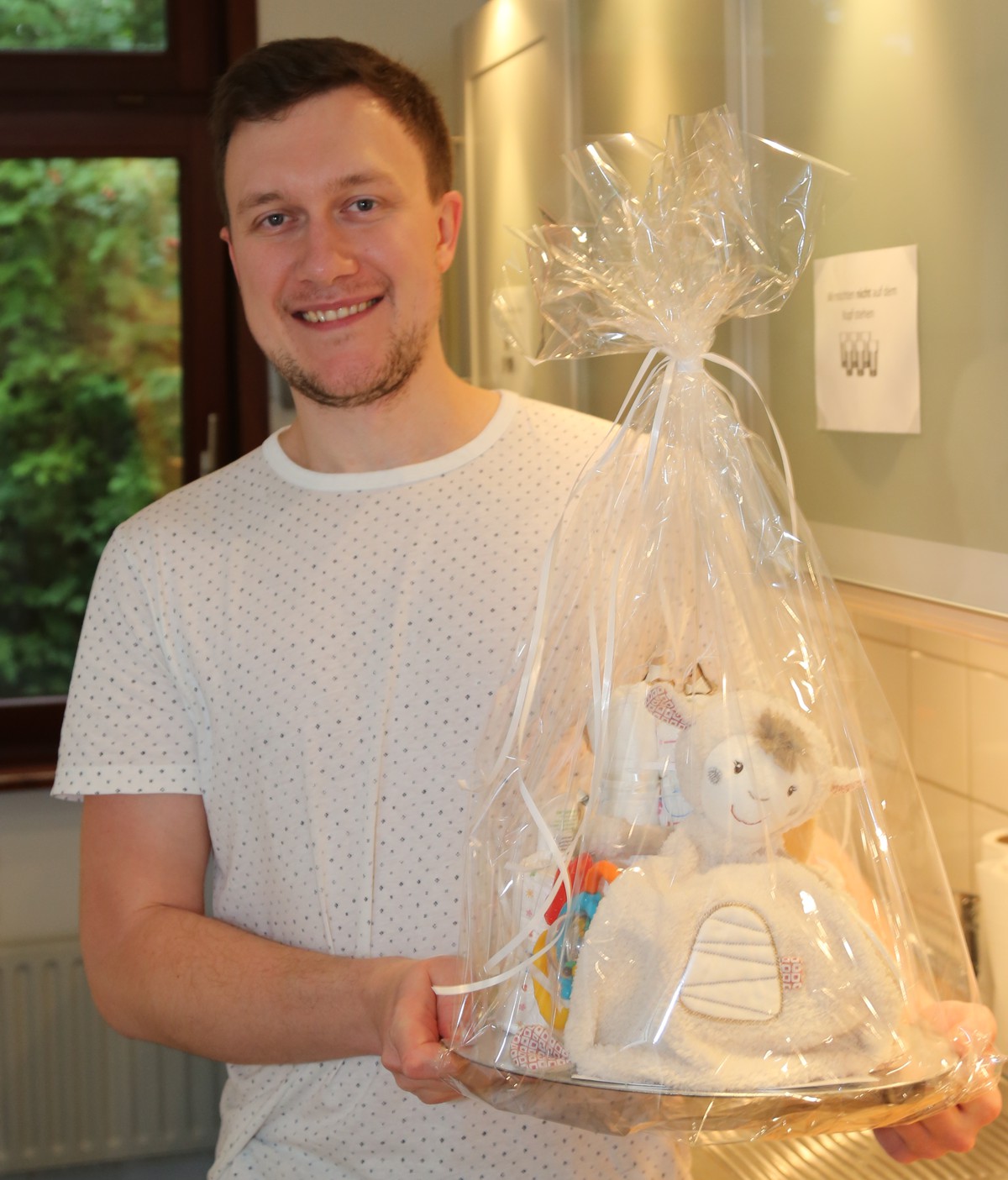 Yulia and Anton are pretty proud parents now. Little Mikael "arrived" at the end of August and he is now the new member in the famous Namenas family. We hope to see him soon here at the faculty.
Congratulations from the whole DSS team.
Friday, 17 September 2021 17:00
Award for the Best Thesis in Applied Signal Processing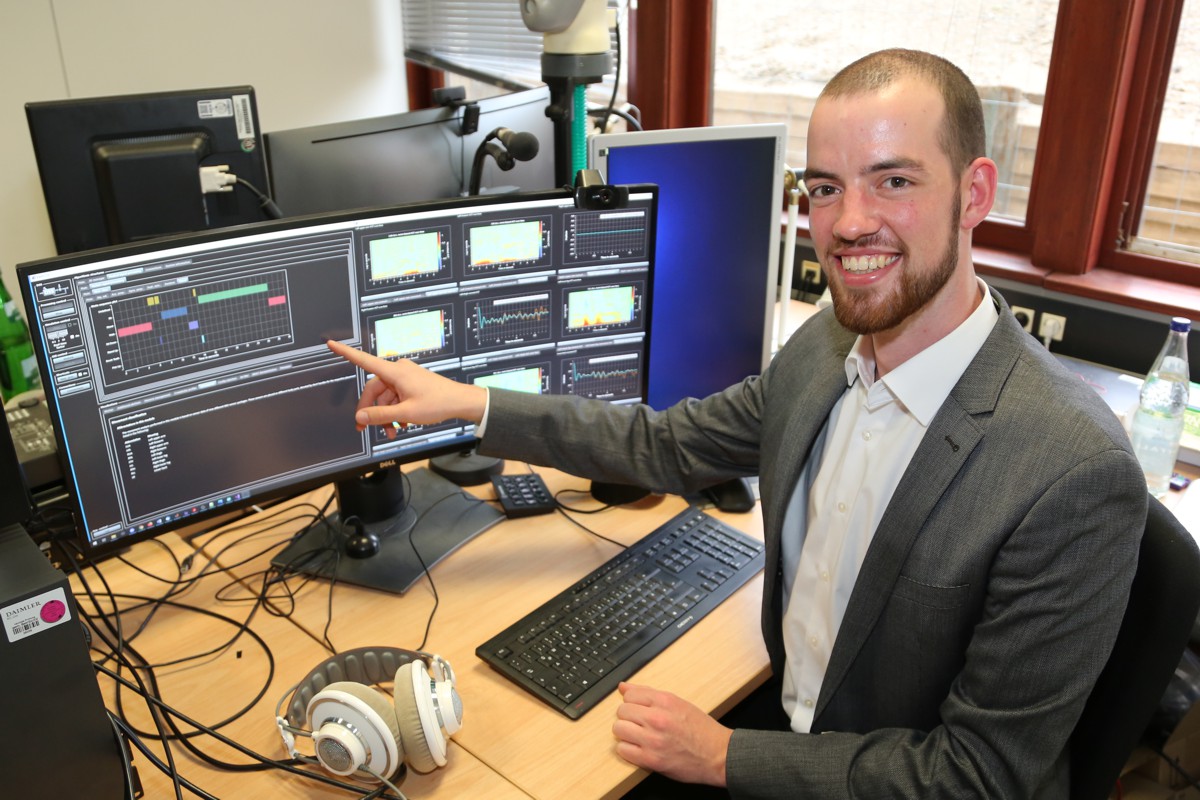 As part of this year's GaS Online General Assembly, Moritz Boueke, B.Sc., was awarded the title "Human Movement Classification using IMUs in Real-time" for his bachelor thesis. Mr. Boueke's work focused on the detection and differentiation of various everyday activities based on sensor data collected with inertial measurement units (IMUs). In our ageing society, neurodegenerative diseases such as Parkinson's are of high clinical relevance. In this context, the recording of movement patterns is an important tool in diagnosis and therapy. The trend is shifting from measurements in the clinical movement laboratory to measurements in the home environment, in which wearable sensors (so-called wearables) are used.
The identification of activities in the comparatively large amount of data is an important step in order to subsequently carry out targeted medical analyses, in which e.g. only stand-up processes are to be considered. As part of his work, Mr. Boueke has created extensive signal processing structures in the real-time framework KiRAT (Kiel Real-Time Application Toolkit), which lay a foundational foundation for this. This includes pre-processing of the sensor data, feature extraction, a decision tree for the actual classification and the preparation of intermediate results for visualization. As a result, activities such as "walking", "brushing" or "sitting down" can now be classified in real time with a state-of-the-art IMU system.
Neurogeriatrics, Department of Neurology, UKSH Campus Kiel, under the direction of Professor Walter Maetzler, acted as a medical project partner: "The award-winning work here is extremely innovative and user-oriented in an area that we physicians have paid too little attention to date: the natural home environment of our patients. With the presented work, Mr. Boueke succeeds in classifying relevant activities of daily life. This can be built on in many ways, with the ultimate goal of better diagnosis and treatment, especially of movement disorders. I would therefore like to congratulate Mr. Boueke and the supervisors on their work!" said Maetzler.
Congratulations from the whole DSS team.
Tuesday, 06 July 2021 11:00
Early Career Research Award for Patricia Fuchs

Our university awards excellent achievements of female students in mathematics, IT, natural sciences and technology (known as the MINT subjects). This year Patricia Fuchs was awarded for her Bachelor thesis on the development and implementation of a magnetic heart axis estimation. We congratulate Patricia Fuchs to the EmpowerMINT award.
The thesis was supported with technical and medical expertise. In order to be able to compare the magnetically achieved results with conventional examinations (based on ECG), test persons were examined by Dr. Daniel Körbächer in his practice in Mönkeberg. The same persons were then magnetically measured at the Faculty of Engineering. Through this new method, the heart position of patients can be estimated more accurately and also in 3D (so far, this analysis is carried out only in the body level, i.e. in 2D). Ms. Fuchs was also supported by Prof. Frey, Head of Cardiology at the Heidelberg Hospital (and also a member of the SFB 1261). Erik Engelhardt and Gerhard Schmidt supervised the work on behalf of the Faculty of Engineering.
The picture shows Patrica Fuchs (center) and all supervisors (Daniel Körbächer, Erik Engelhardt, Gerhard Schmidt, Norbert Frey, from left).