The Year 2018 in Review
"Speech and Audio News"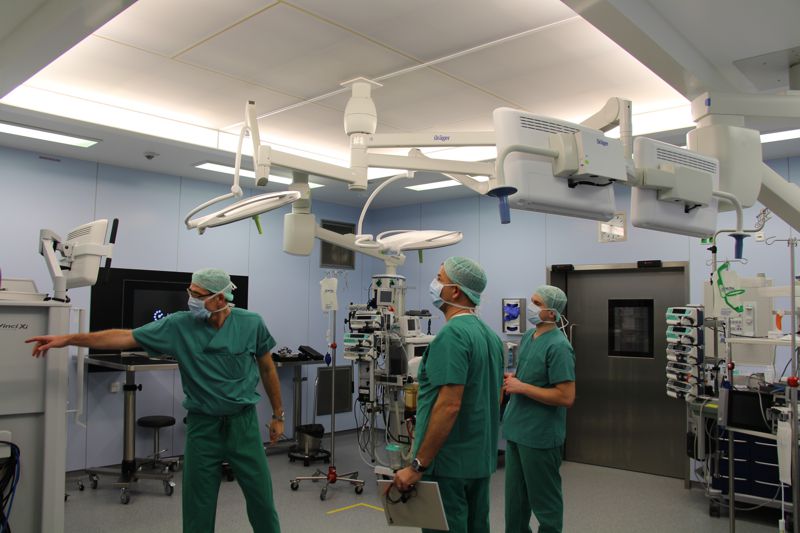 In 2018 we decided to use our knowledge regarding in-car communication (ICC) for more general applications, namely in-room communication. For this, we established a close working relationship with the local university hospital (UKSH). With their help, we want to develop a speech enhancement system helping medical staff to communicate with each other in highly disturbed surgery rooms. So far, we were able to make some measurements during a surgery and we succeeded in building a first hardware prototype.
In the field of ICC we extended our system by merging it with a hands-free telephony system using only one adaptive filter for both echo and feedback cancellation. We also developed new demonstrator hardware to use our system as a portable version in nearly every car. Since we, additionally, focus on the (subjective) evaluation of both ICC systems and communication systems in general, we acquired an audiometer to validate the results of our subjective listening tests.
"Medical News"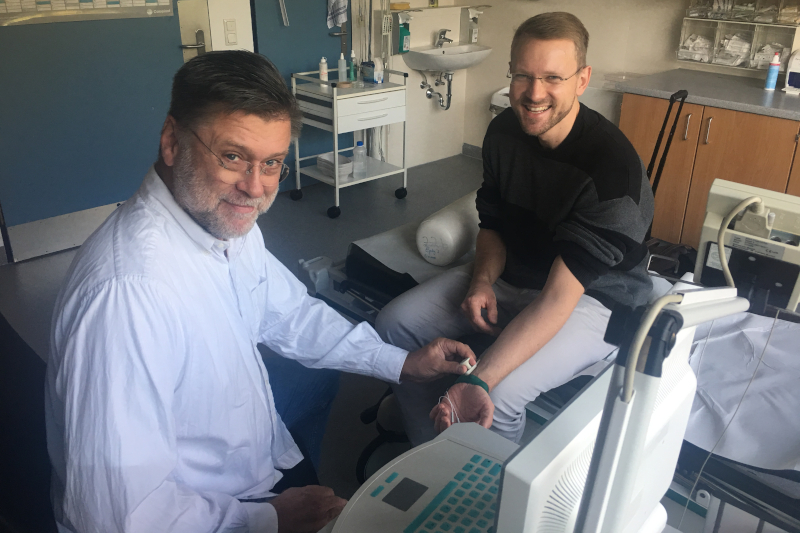 The medical team – consisting of Elke, Minh, Eric and Christin – made some great progress for their own PhD theses and for the whole team during the last year. Elke has started her measurements to create a large dataset that can be used for the development and validation of (pathological) movement algorithms for healthy people and different types of neurological patients. Minh has finished his algorithm to detect sit to stand and stand to sit movements. He is working on a sleep algorithm and he has been busy writing his thesis. Eric extended and enhanced his analysis for the electric and magnetic measurements of the nerve conduction velocity. In this context he visited Prof. Dr. med. Schulte-Mattler in Regensburg for discussion as well as for measurements. They strengthened their close co-operation. Christin proceeded her localization setup and is on the brink of doing the first measurements. Additionally, Eric and Tobias Klawonn (master thesis) developed the movement jacket working with magnetoelectric sensors.
Also regarding conferences, the medical team has been very busy. Eric and Christin attended the Biosignals Workshop in March in Erfurt to present the measurement results achieved the year before. Eric also participated in many neurology conferences, like e.g. the congress of the DGKN. Elke visited two conferences about movement analysis and presented some preliminary results. Minh presented an overview of the results from his PhD at the World Congress of Biomechanics.
"SONAR News"
In the first (full) year with three members - Alexej, Thorben, and Owe - the SONAR team in our group can look back at quite a few achievements in 2018. They finished the modifications on our boat "MISSy" and are now able to perform experiments in the Baltic Sea. "MISSy" is now equipped with electric motors, GPS, and voltage supply for measurement equipment and computers. As necessary for a boat we held a christening ceremony at the "Kitzeberger Strand". Additionally the SONAR team performed some tests at the ceremony with our underwater telephone to show the guests our progress in terms of signal processing, apart from building boats. Furthermore, the DFG accepted our proposal for a MIMO-SONAR sending array and we are looking forward to the delivery in 2019. Another good thing to come in 2019 is our new collegue Bastian who will join the SONAR team in February.
Some "Numbers"
Also this year the number of publications has continued to increase: in total the char was involved in 28 conference and journal publications

Unfortunately there were less bachelor and master theses in 2018 than in the year 2017. 12 theses were started in 2018: seven bachelor theses and five master theses.

In terms of doctoral degrees the year 2018 was rather quiet. Only one PhD student received a doctor's degree. The whole chair congratulates Dr.-Ing. Philipp Bulling for his successfully completed dissertation. However, in 2019 more doctor candidates are expected: Christin Baasch, Michael Brodersen, and Minh H. Pham are in the queue. Maybe more ...
Our "GaS Club"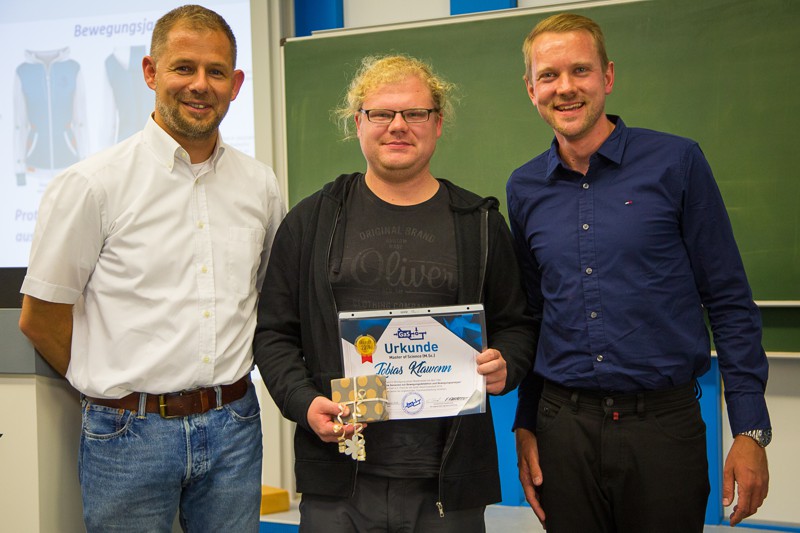 In 2018 the "Gesellschaft für angewandte Signalverarbeitung" (GAS) could extend the number of supporting members to 34. The best thesis in the field of digital signal processing and system theory is annual awarded by the society. Particular attention is paid to scientific and technical claim and the practical relevance of the work. In addition, the student's commitment and his ability to work multidisciplinary and in a team are evaluated by the complete DSS-Group. Tobias Klawonn has won the prize with his master thesis "Magnetoelektrische Sensoren zur Bewegungsdetektion und Bewegungsanalyse". More information and also the official CAU press release could be find here. Additionally, a new password protected member area has been created on the website for all GAS members. Every GAS member could decide, if he would like to join this are.
Some Pictures from 2018
| | | |
| --- | --- | --- |
| Our retreat in Sylt ... | | Our SONAR contribution for Saturday Morning Physics ... |
| | | |
| | | |
| Christening MISSy ... | | "SONAR times" at the beach ... |
| | | |
| | | |
| EUSIPCO in Rom (sometimes the scientific life is really hard) ... | | Our new audiometer ... |