Vehicles, Drivers, and Safety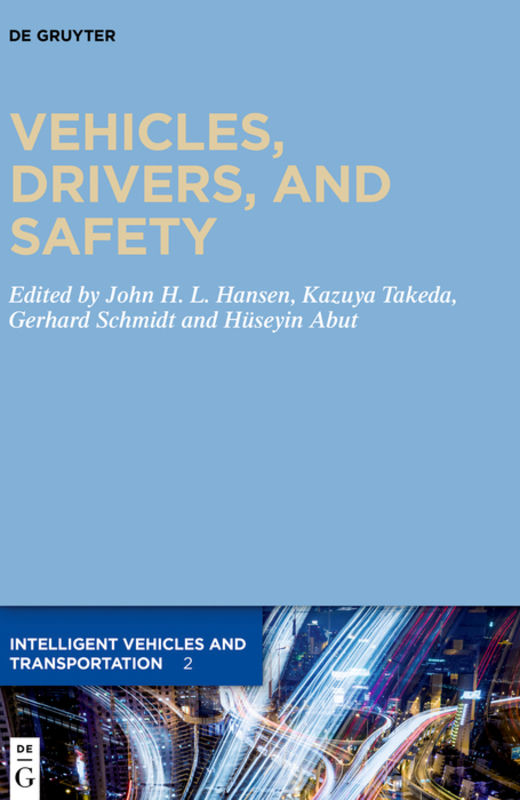 Huseyin Abut, Kazuya Takeda, Gerhard Schmidt, John H.L. Hansen
| | | | |
| --- | --- | --- | --- |
| ISBN: | | 978-3-11-066647-2 | |
| Publication: | | May 2020 | |
| Publisher: | | de Gruyter | |
This book presents works from world-class experts from academia, industry, and national agencies representing countries from across the world focused on automotive fields for in-vehicle signal processing and safety. These include cutting-edge studies on safety, driver behavior, infrastructure, and human-to-vehicle interfaces. Vehicle Systems, Driver Modeling and Safety is appropriate for researchers, engineers, and professionals working in signal processing for vehicle systems, next generation system design from driver-assisted through fully autonomous vehicles.
Crucial subject for the future of the automotive sector.
Cutting-edge studies on safety, driver behavior, infrastructure, and human-to-vehicle interfaces.
Vehicle Systems and Driver Modelling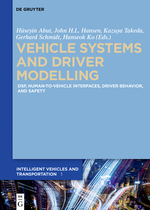 Huseyin Abut, John Hansen, Gerhard Schmidt, Kazuya Takeda, Hanseok Ko
| | | | |
| --- | --- | --- | --- |
| ISBN: | | 978-1-5015-0412-9 | |
| Publication: | | September 2017 | |
| Publisher: | | de Gruyter | |
World-class experts from academia and industry assembled at the sixth Biennial Workshop on Digital Signal Processing (DSP) for In-Vehicle Systems at Korea University, Seoul, Korea in 2013. The Workshop covered a wide spectrum of automotive fields, including in-vehicle signal processing and cutting-edge studies on safety, driver behavior, infrastructure, in-vehicle technologies.
Contributors to this volume have expanded their contributions to the Workshop into full chapters with related works, methodology, experiments, and the analysis of the findings. Topics in this volume include:
DSP technologies for in-vehicle systems
Driver status and behavior monitoring
In-vehicle dialogue systems and human machine interfaces
In-vehicle video and applications for safety
Passive and active driver assistance technologies
Ideas and systems for autonomous driving
Transportation infrastructure
Smart Mobile In-Vehicle Systems: Next Generation Advancements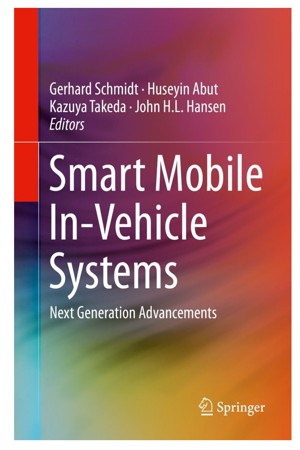 Gerhard Schmidt, Huseyin Abut, Kazuya Takeda, John H.L. Hansen
| | | | |
| --- | --- | --- | --- |
| ISBN: | | 978-1461491194 | |
| Publication: | | November 2013 | |
| Publisher: | | Springer | |
This is an edited collection by world-class experts, from diverse fields, focusing on integrating smart in-vehicle systems with human factors to enhance safety in automobiles. The book presents developments on road safety, in-vehicle technologies and state-of-the art systems. Includes coverage of DSP technologies in adaptive automobiles, algorithms and evaluation of in-car communication systems, driver-status monitoring and stress detection, in-vehicle dialogue systems and human-machine interfaces, challenges in video and audio processing for in-vehicle products, multi-sensor fusion for driver identification and vehicle to infrastructure wireless technologies.
Speech and Audio Processing in Adverse Environments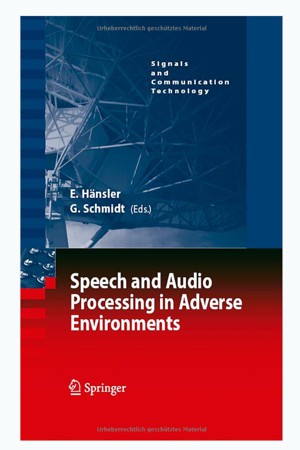 Eberhard Hänsler, Gerhard Schmidt
| | | | |
| --- | --- | --- | --- |
| ISBN: | | 978-3540706014 | |
| Publication: | | August 2008 | |
| Publisher: | | Springer | |
The book reflects the state of the art in important areas of speech and audio signal processing. It presents topics which are missed so far and most recent findings in the field. Leading international experts report on their field of work and their new results.
Considerable amount of space is covered by multi-microphone systems, specific approaches for noise reduction, and evaluations of speech signals and speech processing systems.
Multi-microphone systems include automatic calibration of microphones, localisation of sound sources, and source separation procedures. Also covered are recent approaches to the problem of adaptive echo and noise suppression. A novel solution allows the design of filter banks exhibiting bands spaced according to the Bark scale und especially short delay times. Furthermore, a method for engine noise reduction and proposals for improving the signal/noise ratio based on partial signal reconstruction or using a noise reference are reported. A number of contributions deal with speech quality. Besides basic considerations for quality evaluation specific methods for bandwidth extension of telephone speech are described. Procedures to reduce the reverberation of audio signals can help to increase speech intelligibility and speech recognition rates.
In addition, solutions for specific applications in speech and audio signal processing are reported including, e.g., the enhancement of audio signal reproduction in automobiles and the automatic evaluation of hands-free systems and hearing aids.
Topics in Acoustic Echo and Noise Control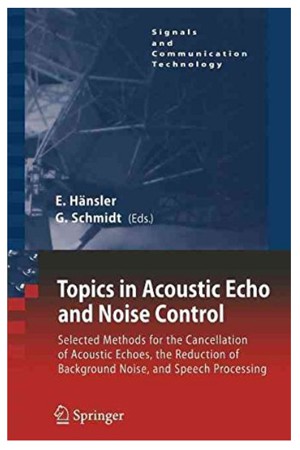 Eberhard Hänsler, Gerhard Schmidt
| | | | |
| --- | --- | --- | --- |
| ISBN: | | B017TGV7RC | |
| Publication: | | November 2006 | |
| Publisher: | | Springer | |
In this book, an international team of highly qualified experts treats important topics in acoustic echo and noise control and reports the latest developments. Methods for enhancing the quality of speech signals are gaining growing attention in universities and in industrial development laboratories.
This book is organized in five parts: Part I gives a short introduction to acoustic echo and noise control. Part II deals with multi-microphone processing. In Part III, advanced methods for both linear and nonlinear echo cancellation are presented, and techniques for intelligent control of hands-free telephones are introduced. Part IV is devoted to noise reduction procedures. An in-depth treatment of conventional and of advanced methods is given, followed by a model based approach using Kalman filters. Finally, in Part V, selected applications of acoustic echo and noise control as well as speech and audio processing in general are outlined. Topics such as auditory scene analysis, wave field synthesis for spatial sound reproduction, in-car communication systems, and hearing aids are treated.
Acoustic Echo and Noise Control: A Practical Approach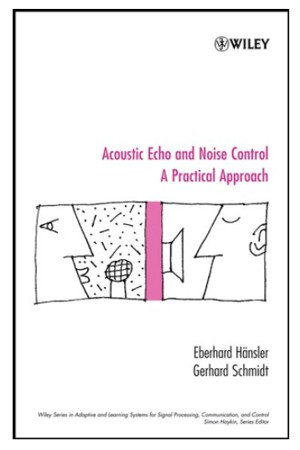 Eberhard Hänsler, Gerhard Schmidt
| | | | |
| --- | --- | --- | --- |
| ISBN: | | 978-0-471-45346-8 | |
| Publication: | | June 2004 | |
| Publisher: | | Wiley-IEEE Press | |
Today's voice communication systems, with their increasing demand for user comfort, necessitate a growing focus on acoustic noise suppression and echo reduction. Drawing on the results of a twenty-year career with the Signal Theory Group at Darmstadt University of Technology, Darmstadt, Germany, Acoustic Echo and Noise Control: A Practical Approach addresses proven methods for suppressing acoustic echoes and noise in various sound systems, from hands-free telephones to video conferencing systems, hearing aids, and speech recognition systems.
With emphasis on single-channel systems, the authors, both recognized experts in the field, deliver a combination of theoretical research and practical solutions to acoustical problems across a broad range of industries. In addition to presenting a detailed description of practical methods for controlling acoustic echoes and noise, they also develop a theory for optimal control parameters and present practical estimation and approximation methods.
Some of the topics covered include:
Basic algorithms for filtering, linear prediction, and adaptation of filter coefficients
Application of these algorithms to acoustic echo cancellation and residual echo and noise suppression
Estimation of nonmeasurable quantities necessary to control algorithms
Devising control structures based on these quantities
Requiring only a basic knowledge of linear systems theory and digital signal processing, this text offers an ideal resource for students, researchers, and systems engineers seeking to familiarize themselves with the latest developments and practical applications in this fascinating field.