Signal Processing for Underwater Applications
Contents: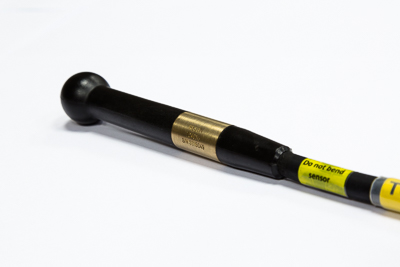 The development of SONAR (acronym: SOund Navigation And Ranging) systems started in the early 20th century inspired by the calamity of the Titanic in 1912. A system should be developed to prevent collision with icebergs. Since that time systems for a broad variety of applications such as navigation, fish finding, cartography, etc. have been developed and SONAR systems are extensively used in civil as well as military shipping. Next to active systems where emitted soundwaves are used to sense the environment by reflections, passive systems are available which are solely listening for waves emitted by the environment. In many available systems "classical" techniques like time-delay beamforming and the emission of correlated waveforms using all available sender elements are utilized. Next to that the operator needs to intervene to adopt the emitted waveforms and the processing chain to the environment and the awaited target type to achieve an optimal detection rate.
Recently so called cognitive SONAR-systems and in addition to that MIMO techniques are proposed. Both ideas should be combined to build an innovative more powerful system. While cognitive systems are sensing the environment and utilizing previous detection data to autonomously optimize emitted waveforms and the processing of the raw data to the situation, MIMO systems are emitting uncorrelated waveforms to achieve an improved illumination of the underwater channel and such virtual arrays with a higher number of elements. As the number of elements is related to the resolution of the system such systems are e.g. capable of an enhanced detection rate.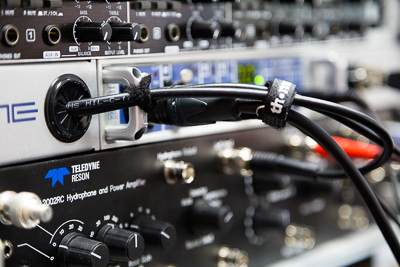 In the topic of underwater telephony the sound waves are used to transmit speech signals using either analog or digital techniques.
As the underwater channel adds a vast number of distortions to the transmitted signal (e.g. noise, echoes) the received signal quality is highly degraded.
These issues are not accounted in existing standards for analog/digital underwater communication systems so that digital signal processing techniques need to be developed and implemented under the constraint of compatibility with existing systems.
Our real-time channel simulation supports several send and receive hydrophones that can be placed in an underwater environement with a variety of adjustment possibilities, such as sound velocity profiles (depth dependent). In addition, wind speed and direction can be adjusted (both is fed into a statical model for creating a time and location dependent water surface and corresponding noise). Furthermore, several moving target can be simulated. The channel simulation is based on a restricted 3D ray tracing scheme, that allows freqeuency dependant ray parameters (e.g. reflection and attenuation). The channel simulator is based on our real-time framework KiRAT.
Corresponding Publications: