Medical Signal Processing
Contents: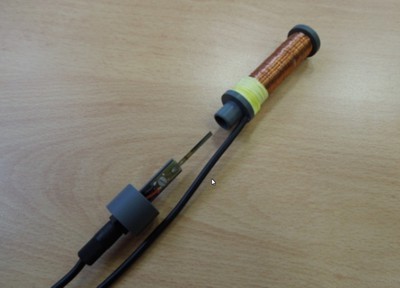 To measure signals of the heart or the brain with a high temporal resolution, usually electrical based measurement types as Electrocardiography (ECG) resp. Electroencephalography (EEG) or magnetic based measurement types as Magnetocardiography (MCG) resp. Magnetoencephalography (MEG) are used. Since both types of measurements have their advantages and disadvantages both methods should be used for clinical diagnosis. Unfortunately, the operation of suitable super-conducting quantum interference devices (SQUIDs) for magnetic based measurements is in general very expensive.
In order to provide an alternative, sensors have been developed based on the ME-effect in recent years in the collaborative research groups at Kiel University. These sensors have the potential to be an appropriate alternative to SQUIDs. Unfortunately, these sensors also record mechanical vibrations, whereby the desired signals are often superimposed by unwanted signal components. To reduce this effect, an adaptive cancellation approach using non-magnetic noise reference sensors is realized by us. This approach is realized in real-time using our own tool (for details see here).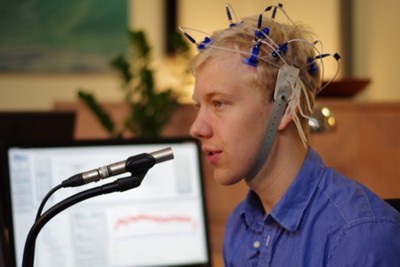 These sensors are utilized for magnetoneurography analysis. This approach provides an alternative and also very attractive technology to the electrode-based nerve conduction studies called Electroneurography. The main objective of this modern technique is to optimize the diagnostic specificity of neuropathies by developing a spatially continuous scanning of nerves with a magnetic field sensor. This approach will increase and also combine the spatial resolution and functional information. In summary, this will further improve the treatment.
Furthermore, we work on brain-computer interfaces (right now based on pure electrical interfaces, but hopefully soon also using magneto-electric sensors). On the picture on the right you see one of our brain-computer interfaces that is used for controlling a TV set (beside the brain modality also speech can be used for controlling the device).
Finally we also research on the analysis of Parkinson speech. Morbus Parkinson is a wide spread disease especially in the age group above 50 years. Besides several motor disorders also speech disorders accompany this disease. The dysarthria expresses itself, among other symptoms, by a too low speech level and a mumbling voice. Probably due to a perception disorder, the patients do not realize their dysfunction in speech production. The investigation of the efficacy of these therapies has been and is still a very interesting research topic. In contrast, not yet established is the investigation of the origin and location of the problem in speech production. This would help to adapt the speech therapy to the specific needs of the individual patient. This can be realized by an evaluation of the patient's speech using technical measures. Further, these measures can be used instead of auditive assessments to classify the severity of the patients dysarthria. The goal is the development of a tool that is capable to perform such analyses. It includes the recording equipment that is needed to make reliable recordings of the patients, as well as a recording environment, implemented in a real-time signal processing toolkit, measures to evaluate the speech disorder, and, finally, the verification of the selected measures.
Details about the projects can be found on the links below:
Corresponding Publications: