Speech and Audio Signal Processing
Contents:
In different applications such as automotive hands-free telephony or speech dialogue systems, the desired speech signal is disturbed by background noise (engine, wind noise, etc.) and by echoes (due to multipath propagation from a loud-speaker to a microphone). In order to reduce the disturbing components while keeping the speech signal as natural as possible multi-channel adaptive signal enhancement algorithms are utilized.
In the field of speech enhancement we focus mainly on three applications:
high-quality conference systems (supporting audio and video communication),
speech enhancement schemes (hands-free and in-car communication) for cars, and
signal enhancement for breathing protection masks.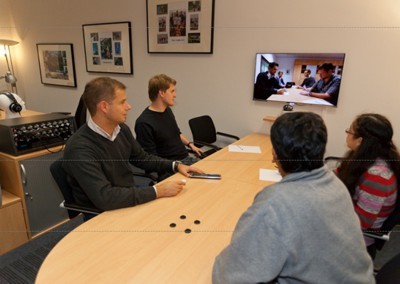 The picture on the left shows one of our test labs. In that room a system with about 20 microphones (4 of them are visible on the picture as black dots on the table) and about 10 loudspeakers is installed. We can make conference calls either in other rooms (similarly equipped or into one of our test cars).
Another application that we are focussing on - as mentioned above - is in-car communication. Here, we address the following problem: Since the conversational partners in a vehicle do not face each other directly, there is a relatively high attenuation of the speech signal and the signal-to-noise ratio at the listener's ears is additionally decreased by driving noise. The approach of an in-car communication (ICC) system to resolve this problem is to record the talker's speech by means of microphones and play it back over loudspeakers which are located close to the listening passengers. Because the listener always perceives a mixture of direct sound and the loudspeaker signal, the system has to be designed to operate with only a small delay of less than 15 ms. Also, such a system operates in a closed electroacoustic loop and thus, system stability becomes a critical issue.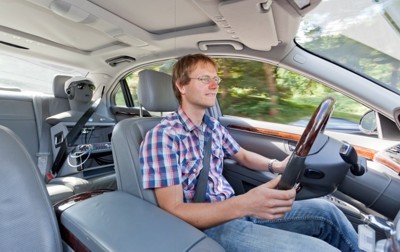 For our research on automotive hands-free and in-car communication systems we do simulations (both offline as well as real-time simulation), but also we investigate the behavior of our algorithms in real environments. For that reason we have several systems installed in different kinds of cars. The picture on the left shows one of them. Our cars are equipped with several conventional and some "non-conentional" microphones as well as with several loudspeakers. Thus, we can investigate all kinds of systems.
In addition to the design of speech enhancement algorithms such as localization and beamforming, echo and feedback cancellation, noise reduction, or bandwidth extension we investigate also the automatic evaluation of the quality of such systems. For that purpose several subjective and objective test are investigated. Since we need a realistic environment simulation for such tests we do also research on realistic environment simulations.
In the broader context of automatic system evaluation, we also investigate the quality of transmitted speech in general. Here, the focus lies on the quality of speech after an entire signal processing chain. For telecommunication scenarios, such a chain may inlude speech enhancement, source coding, and network transmission. While the overall quality of transmitted speech is, of course, of interest, the main goal of our research is to, additionally, identify the technical causes of sub-optimal quality within the processing chain.
Corresponding Publications: